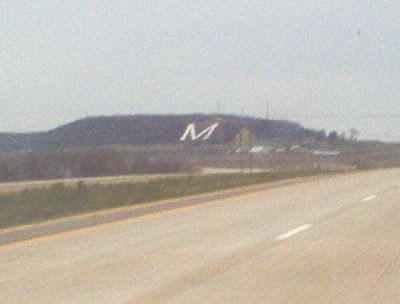 I had some lovely little adventures today!
I spent most of my morning cooped up indoors. It was a little chilly, so I didn't mind. I worked on a sculpture project. The project was part of a class final in which we were each given a grab-bag of different materials and told to make something out of only the materials in the bag. I made an abstracted form of a bird.
But ah! That's besides the point!
I came down with a case of the munchies, so I went out for a sub, and then, on a whim, I decided to visit Platteville's own giant letter M!
The M is on a hill about five miles from the edge of town. You can see it from miles around--even from Iowa and Illinois! It's made of white rock and is maintained yearly at the Miner's Ball, which takes place in the fall of every year. The 'M' stands for 'mining', which is the historic labor force behind the city of Platteville.
I parked my truck at the food of the hill and proceeded to climb up the long flight of stairs to the top.
It was warm and sunny when I reached the crown of the hill. The view was ever so beautiful! The day was clear, and I could see the town, farm fields, and university tower below. I took a walk around the hilltop, and discovered a series of paths I had not discovered before! They spidered about the trees and underbrush. I came to a little clearing with a picnic table. I stopped to sit a while and admire the scenery. The birds were singing--it was so unusual! I still can't get used to this warm, cheerful weather!
I happened upon another narrow path that took me down the furthest side of the hill. This path was especially unique, as the limestone sheets that poked from the turf seemed to form a sort of natural staircase. I imagined that before the main wooden staircase was constructed, perhaps the miners of old walked to the top of the hill upon this path.
After a while of adventuring, I decided it was time to go home.
Truly a lovely mini-adventure, no?